There are some wedding traditions that seem totally fitting for the occasion of getting married, like the slow walk down the aisle and the first dance as newlyweds. There are others, however, that kind of make you scratch your head…For many couples, the bouquet and garter toss are a prime example of those "why-are-we-doing-this-again?" traditions. So, if you're feeling on the fence about having them happen at your reception—or you need some incentive to nix 'em all together—here are four reasons why you won't miss these puzzling customs.

1. You'd rather keep your bouquet or garter.

Totally understandable! Now, some brides opt to have a "tossing" bouquet made solely for this reception tradition but not everyone has the budget, or the desire, to do that. Plus, do you really want some sweaty groomsman wearing your sweet, lace garter around his head for the rest of the night?

Instead, preserve your bouquet or press individual blooms so you can gaze lovingly at your flowers for years to come. And keep that garter in your lingerie drawer so you can break it back out when you're feeling spicy.

2. The tradition can feel a bit outdated.

Some people think this tradition is all in good fun, couldn't imagine their wedding without it, and have a blast taking part. Others take issue with the way the bouquet toss singles out single women (and prompts them to fight over your flowers) and how the garter retrieval can seem a bit risqué. There's no right or wrong way to feel about it! What matters is that you do what you feel comfortable doing.

An alterative? Instead of having your ladies scrap it out over your flowers, present your bouquet to your mom, best friend, or grandmother instead. And just keep the garter on your leg.

3. You're, well, shy.

Some couples aren't down with the attention factor of these traditions, particularly the moment when the groom has to fish under his' new wife's ball gown—in front of her dad—searching for a tiny piece of material so he can pull it off her upper thigh with his teeth.

Keep the sexy to yourselves by doing a boudoir shoot instead: Wear your wedding lingerie and that garter so you can capture yourself looking fine—and give your man a chance to ogle professional photos of your sexy self.

4. You want to keep the dance party momentum going.

Think about your ideal reception: If you're picturing an awesome dance party, you may not want to halt the action in order to fit in tossing a bouquet and garter.

To keep things lively and fun—without losing momentum—ask your DJ to play special songs throughout the night that have meaning to your groups of friends or certain family members. That way, people will be excited to bust a move and no one will want to clear the dance floor.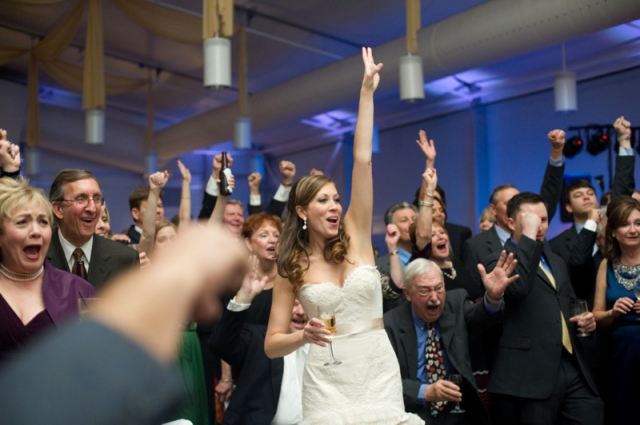 Photo by Catherine Guidry Photography
—By Natasha Burton