We do things differently now when we say "I do"
FUN WITH FLOWERS
Installations are big, (well, perhaps not as big as Kimye's flower wall) and they've moved above and beyond the traditional floral wedding arch and vases on the table. Flowers now hang over the table, either from the ceiling, from specially erected lighting rigs or from elaborate flower stands. This is where a savvy florist, who knows about the staying power of a hibiscus stem, comes in handy.
"It's about making a statement with florals in a sculptural way," says wedding planner Erin Lovich of Wonder Events. "Festoons have been popular for years but we're now seeing them intertwined with drapes. We've also moved away from bouquets with strictly peonies and roses. These days it's just as common to have an abundance of lush greens." Bouquet-wise, wedding planner Sophia Cohen, of CocoLily Events, says tightly bunched formals are out in favour of flowers that look "a little bit wild, but classically wild; structured flowers that don't look like they're structured".
WEDDING APPS
Look in the app store under wedding planners and you'll be inundated with options that may help the pair of you divvy up roles. Can't be bothered writing your to-dos? WeddingHappy has a comprehensive checklist. See a flower you want in your bouquet? Snap a picture using LikeThat Garden, and it will identify it. Not sure where to seat Aunty Ange, who no longer speaks to Uncle Mark? Throw away that tedious seating plan and use AllSeated, which allows you to import your contacts and organise them.
HIPSTER WEDDINGS
As if you're going to wear white/say boring vows/take your shades off for the photos. Your wedding is all about edgy urban touches, which is why you're turning up to the park in a Mustang, and he's wearing a fedora. The party? In your own backyard, with a spit-roast and whisky shooters. On a Thursday. Your love for DIY, and your strong sense of individual style have made all this possible, even if it's caused arguments with your mum, who wanted you to get married in a church.
NUDE BRIDESMAIDS
Ssh, that was the hens' do. But the bride's best friends needn't go down the brights route on the big day. It's increasingly common to channel Pippa Middleton in a colour scheme not far off the bride's.
"A lot of our brides are choosing neutrals for their maids' dresses and it's a look that I love," says designer Juliette Hogan, who has always been a fan of pared-back tones. Her wide range of bridesmaid dresses, in floaty silks and romantic lace, stick mostly to a colour palette of whites, creams and nudes. "Depending on what the bride is wearing, it can really set her dress in a way that bolder/ brighter colours might overshadow."
MORDERN STYLE
Rustic, vintage and boho are so yesterday. The latest look for weddings is slick and contemporary. "Keep a neutral colour scheme and a focus on the smaller details — linen tablecloths, rose gold or black cutlery, marble placemats, ceramic plates," says Erin. "I'm also really looking forward to the introduction of neon. An awesome pop of 80s' colour, it could be a cool lyric, saying, or something sentimental to the couple, on a wall."
INSTA WEDDINGS
Even if you're not in Instagram, chances are many of your guests will be. Keep track of their photos or videos of your big day by setting up a hashtag — ie, #ChloeTomWaihekeWedding — and asking guests to post to it (minus the blurry ones from later in the evening). Then you can get everything printed out using a company such as Social Print Studio.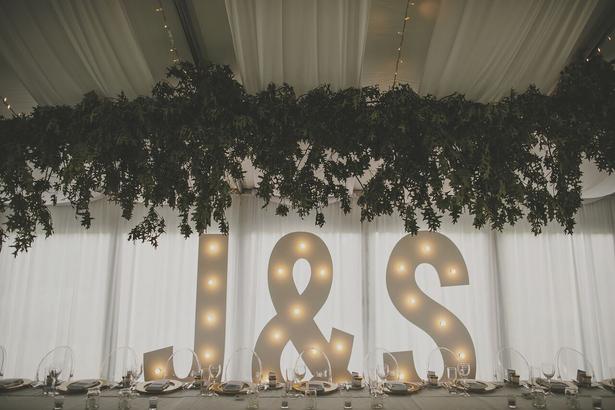 Stylist / Wonder Events, Picture / Danelle Bohane, Florist / Blush Floral Stylist, Lighting / Light Letters.
LIGHTING
Think style over function: large marquee lights that spell out the couple's initials, or a fun word for the dance floor. "The great thing about putting the investment into lighting," says Erin, "is you make a statement and often create a great backdrop for photos."
CUSTOMISED JEWELLERY
Classic diamond rings are still the most popular choice for engagement rings, says Sarah Hutchings, of Orsini Fine Jewellery. But she's also noticed an increase in customised designs that reflect the couple's style, particularly when the bride is involved. "I had a guy recently request a ring with his partner's birth stone," says Sarah. "Others will pick a classic design and tweak it slightly."
That might mean engraving the ring with a message or initials, or opting for alternative diamond tones, such as champagne, black or yellow. It's perfectly acceptable to mix colours, too, says Sarah.
"You might have a rose gold pave engagement band and next to that yellow gold wedding band."
STOP MOTION VIDEOGRAPHY
It's most famously used in cartoons, but stop motion has become increasingly popular for wedding videos, not only because it helps to tell the story of your day succinctly, but also because it looks hella stylish.
"Most people want a highlight reel of the day set to their favourite song, not a three-hour marathon wedding spectacular," says wedding videographer Tracey McCaw, of Off the Market Productions. "A stop motion video is something they can share online that won't have people unfriending them."
CASUAL FOODIES
The eating-out trend for sharing plates has spilled over into weddings. But it's not so much buffet style as it is grazing platters, and even food trucks taking precedence over the formal three-course meal.
In general, people are more casual in the way they're doing things," says wedding planner Sophia Cohen, of Coco Lily Events. "That includes the food. You might share things on the tables or have a cheese station and a paella station and a big table with desserts."
CONSCIOUS CAKES
Modern brides are forgoing fondant for natural or "semi-naked" cakes, minimally iced so you can see the layers.
Wholesome ingredients are also huge, with many brides requesting free range eggs and less refined sugar, says Cake & Co's Jackie King. "We do quite a few vegan cakes and most people can't even tell the difference," she says. That doesn't have to mean dull, though. The coolest cakes are decorated with colourful edible flowers and over-the-top Perspex cake toppers, fruit — even mini macarons. "The sugary pastel cake is out," says Jackie. "It's been completely overtaken by the bold, bright and beautiful."
By Rebecca Barry Hill